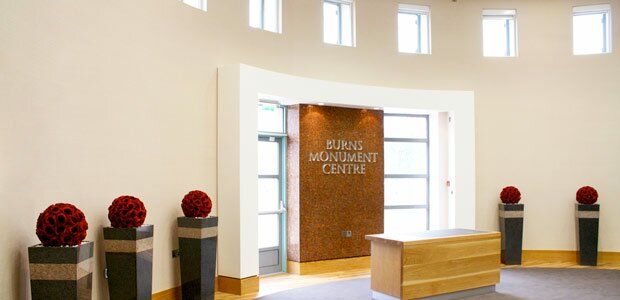 Conference Venue and Meeting Room
The semi-circular shaped conference room comfortably seats up to 85 people in a 'theatre style' layout suitable for presentations and events. The space is flexible and can be quickly and easily reconfigured to 'boardroom' style accommodating up to 40 people.
The Robert Burns Suite has a range of break-out facilities – the Jean Armour and Gavin Hamilton Rooms which are close by can host small groups of up to 8 and 4 respectively and the Waiting Area has seated space for 12. The nearby Meeting Room will also accommodate 12 people in 'boardroom' style. All rooms have full IT facilities including internet access. The Meeting Room has a large plasma screen and the Robert Burns Suite has a remote controlled ceiling mounted projection system complete with A/V inputs, full IT facilities and a sophisticated sound system.
Availability
The Robert Burns Suite is available for booking either for a full day or for a half day. Please contact us to discuss availability and costs or email us at