Robert Burns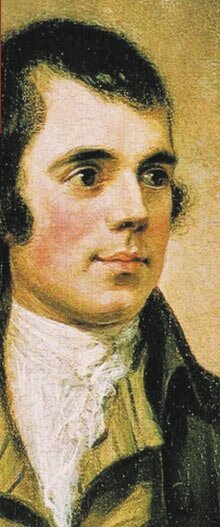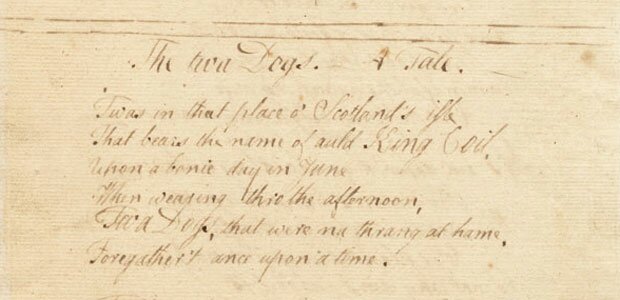 Robert Burns (25th January 1759 – 21st July 1796) also known as the Ploughman Poet, was a poet and lyricist. He is widely regarded as the national poet of Scotland, and is celebrated worldwide. He is the best known of the poets who have written in the Scots language, although much of his writing is also in English and Lowland Scots dialect.
Burns was born in Alloway, South Ayrshire, the eldest of the seven children of tenant farmer William Burness and Agnes Broun. The house in which he was born is now the Burns Cottage Museum.
Burns grew up as the son of a subsistence farmer, working very long hours and living in harsh conditions, which would affect his health in later life. His father however appreciated the value of education, and the young Robert Burns was taught by local teacher John Murdoch.
As a young man Burns earned a reputation for dissolute behaviour amongst his neighbours. His first illegitimate child, Elizabeth Paton Burns, was born to his mother's servant, Elizabeth Paton, at the same time as he was embarking on a relationship with Jean Armour who bore him twins in 1786. Although her father initially forbade their marriage, Burns and Jean Armour were married in 1788. She bore him nine children in total, but only three survived infancy.
During the break in his relationship with Jean Armour in 1786, he began an affair with Mary Campbell, to whom he dedicated the poems The Highland Lassie O, Highland Mary and To Mary in Heaven. They planned to emigrate to Jamaica where Burns intended to work on a plantation. Before the plans were fulfilled however Mary Campbell died suddenly of a fever in Greenock.
Partly to finance his proposed trip to Jamaica and at the suggestion of his brother, Burns published his first collection of poems in the summer of 1786. Poems, Chiefly in the Scottish dialect, became known as the "Kilmarnock Edition" and was printed in Kilmarnock by John Wilson, a local printer. It contained much of his best writing, including The Twa Dogs, Address to the Deil, Hallowe'en, To a Mouse, and The Holy Fair. The success of the work was immediate, and he was soon known across Scotland. The first Edinburgh edition of his poems was published the following year. Although very successful, his writings did not make him financially secure enough to devote all of his time to writing. He moved to Ellisland Farm outside of Dumfries in 1788 with his wife Jean Armour and their family. The farm was not a financial success and they left in 1791. Burns then worked as an Excise Officer in Dumfriesshire until his death.
Robert Burns died on 21st July 1796 at the young age of 37. The years of hard labour as tenant farmer had taken their toll on his health and the severe winter of 1795 and food shortages in early 1796 exacerbated his poor health. He was buried in Dumfries on 25th July 1796.
Robert Burns is regarded as a pioneer of the Romantic movement and is a cultural icon in Scotland and among the Scottish diaspora around the world. His influence on Scottish literature has been considerable.
As well as original compositions, Burns also collected folk songs from all over Scotland, often revising or adapting them. Auld Lang Syne is often sung at Hogmanay, and Scots Wha Hae served for a long time as an unofficial national anthem of Scotland. Other well known poems and songs of Burns include A Red, Red Rose, A Man's A Man for A' That, To a Mouse, and Ae Fond Kiss.
Burns's poems covered a wide range of themes including love, republicanism, radicalism, Scottish patriotism and anticlericalism. He also wrote of class inequalities, the Scottish Kirk and Scottish cultural identity. Burns and his works were a source of inspiration to the pioneers of liberalism, socialism and the campaign for Scottish self-government, and he is still widely respected today by political activists of all strands of opinion.